COMIC DRAMA; 1hr 59min (French and Russian with subtitles)
STARRING: Alexei Guskov, Mélanie Laurent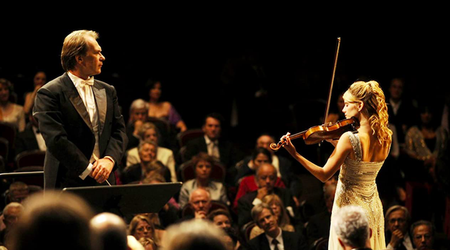 Encore! Guskov and Laurent 
Second chances don't come around often and for Andrei Filipov (Guskov), his shot at glory is now or never. Once the conductor for Moscow's mighty Bolshoi Theatre orchestra, Andrei was fired 30 years ago under Leonid Brezhnev's Communist régime for refusing to dismiss Jewish musicians and is now a cleaner in the theatre he used to command. Andrei is a crushed alcoholic. But he's not yet broken and when the opportunity arises, via a stolen fax, for the Bolshoi to play in Paris, he knows this is his moment.
Andrei gets his second act together with a grab bag of former orchestra members now making do in various odd jobs. Their Paris experience is an underdog-rising con job that only a sourpuss wouldn't barrack for. As Andrei rallies his troops for a performance of Tchaikovsky's Violin Concerto, he must also find reserves of self belief: not easy, given a long-term exile and a complex tie to his lead violinist (Inglourious Basterds' Laurent). 
Director Radu Mihăileanu's madly emotional hijinks could have used a chill pill. But the transporting final performance lifts the loco expedition up into the gods.