ROMANTIC DRAMA; 1hr 30min
STARRING: Patricia Clarkson, Alexander Siddig, Tom McCamus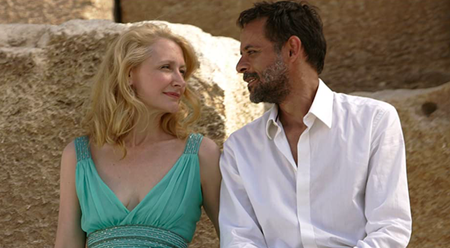 Romeo and Juliette: Clarkson and Siddig
Magazine journalist Juliette (Clarkson) is such a lady in the cool, blonde American sense that her displacement in frenetic Cairo is a physical jolt. With her husband, UN worker Mark (McCamus), delayed in Gaza and the scorching streets unsafe for a cool, blonde unaccompanied Western woman, Juliette explores the city with Mark's former assistant Tareq (Siddig), who is lean, soulful and old-world chivalrous. And unmarried. With something of a spicy romantic past. Well, he would have, wouldn't he?
Juliette's emerging relationship with the man who is her window to the city parallels her attraction to its beauty and its mysteries: under writer-director Ruba Nudda's unrushed-to-a-fault direction, the two are inextricably meshed.
Clarkson is an absorbing, introspective actress. It would have been tasty to watch her sink her teeth into some chewable meat rather than waft gracefully through the lazy, touristic days. And yet, drawn into Juliette's dreamy orbit, it's easy to understand how the exotic and unfamiliar can feed a hunger you never realised you had.