DRAMA; 1hr 54min (Persian with subtitles, English)
STARRING: Shohreh Aghdashloo, Mozhan Marnò, Navid Negahban, Ali Pourtash, Jim Caviezel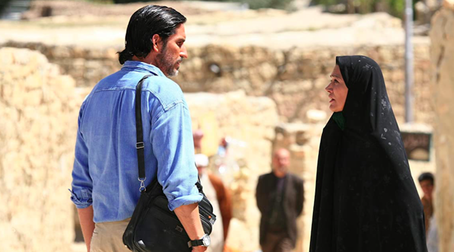 The whistleblower: Caviezel and Aghdashloo
Iran is a physically unforgiving country whose harshness can also be its beauty. But in The Stoning of Soraya M., secret aspects of that harshness are barbaric beyond belief. Married for 20 years to a brute (Negahban as Ali) who has tired of her and wishes to marry a 14-year-old, Soraya (Marnò) is the victim of a ludicrously trumped-up charge of adultery, cobbled together by Ali and the corrupt village mullah (Pourtash). Although she is patently innocent, Soraya is buried to her waist and stoned to death by the villagers she had regarded as friends.
But Soraya's appalling, true story has a redemptive coda in the fierce, unflinching bravery of her aunt Zahra (Aghdashloo). In a culture so weighted against the worth of women, Zahra is powerless to stop the stoning. Her defiant recourse is to detail what took place to visiting journalist Freidoune Sahebjam (Caviezel), and it is on his resulting book that this harrowing account is based. 
Director Cyrus Nowrasteh doesn't soft-pedal the shocking reality of mob rule as a crazed, medieval cult. As a statement of outrage, The Stoning of Soraya M. is almost unbearable to witness and impossible to dismiss.