DRAMA; 1hr 40min (French with subtitles)
STARRING: Josiane Balasko, Togo Igawa, Garance Le Guillermic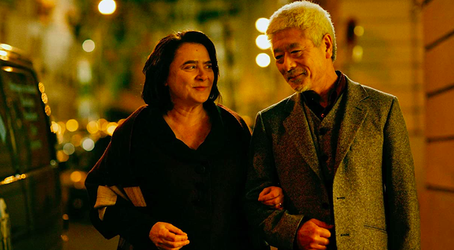 Taking care: Balasko and Igawa
Appearances can be exactly that. At age 11, precocious Parisienne Paloma Josse (Le Guillermic) appears to inhabit a world of promise. Renée Michel (Balasko) is the concierge of the splendid apartment building in which Paloma lives. She is monochromatic and drab in the way of a woman accustomed to being overlooked. Yet the reality of Paloma and Renée's situations couldn't be more different. Believing her existence to be meaningless, Paloma plans to kill herself, while reader and thinker Renée has a rich inner life.
A discerning new Japanese resident (Igawa as Kakuro Ozu) is about to impact on Renée's sealed world and while confronted by his interest, she is swept up nonetheless. Paloma is still planning her suicide but recognising a kindred soul in prickly Renée, she also seeks the concierge out.
Adapted from the 2006 novel by Muriel Barbery, The Hedgehog is a Cinderella story related with European restraint. Lord knows what mainstream Hollywood would do to it, but in the expressive hands of first-time feature-film director Mona Achache, the characters are illuminated by the subtlest possible light.