HORROR; 1hr 40min
STARRING: Sean Bridgers, Pollyanna McIntosh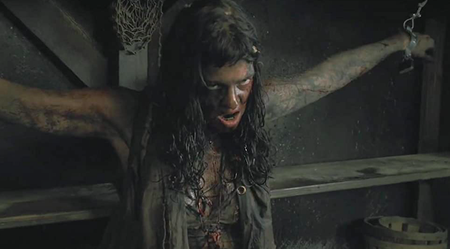 Out for a spot of hunting in the woods near his middle-class Maine home, clean-cut court officer Chris Cleek (Bridgers) is stoked to come across a feral woman (McIntosh) and decides to capture her and chain her up, Crucifixion-style. (This is obviously a weird thing to do, but the Cleeks are one weird and mopey family.) His plan is to civilise her in secret, to which the savage creature does not take kindly.
Why would she? Cleek is a psychopath and an abusive pig. Director Lucky McKee's harsh, stylised palette and locked-in performances from Angela Bettis and Lauren Ashley Carter, as Cleek's tyrannised wife and daughter, would telegraph menace even without the snarling captive's ominous presence. 
There's nothing halfhearted going on here: in its brutally handled theme of what constitutes a morally developed being and its closing scenes of vile, orgiastic violence, The Woman — adapted from Jack Ketchum's 2010 novel, co-written with McKee — skews from revolting to grotesque with unnerving technical proficiency.