THRILLER; 1hr 58min
STARRING: Matthew McConaughey, Ryan Phillippe, Marisa Tomei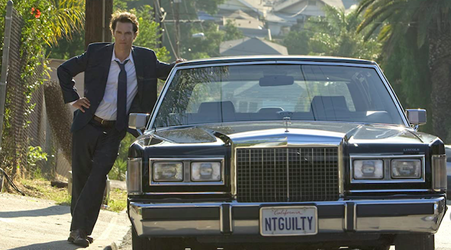 Wheeler dealer: McConaughey
Mick Haller (McConaughey) is a nimble Los Angeles criminal defence lawyer, as glib as he is essentially sincere. Constantly in motion, he wheels and deals from the back seat of his black, chauffeur-driven Lincoln Continental (licence plate: NTGUILTY), scraping support for his sexy, combative attorney ex-wife (Tomei as Maggie) and their little girl. 
Unlike Mick's small-time client base, his latest catch, Beverly Hills ladykiller Louis Roulet (Phillippe), has a truckload of money. The hitch is, he might be a ladykiller who just laid into one woman and murdered a second years before. Roulet claims he's innocent. (Of course!) But as Mick and his private investigator (William H. Macy) dig for dirt, they find it in spades.
How cool is it to catch McConaughey in a role he can sink those pearly whites into? Based on Michael Connelly's 2005 novel and directed by Brad Furman, The Lincoln Lawyer is a fluid, snazzy rush with punchy performances and front-row accesses to a slippery legal circus. The territory is well-trodden but that doesn't make it any less tricky: justice may be blind, but nobody said she was easy.