ROMANTIC COMEDY; 1hr 38min
STARRING: Tom Hanks, Julia Roberts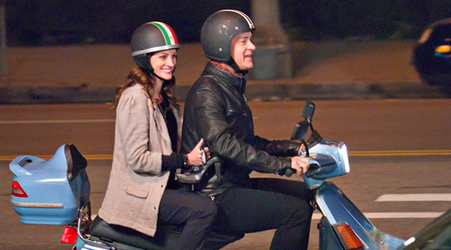 Crowne jewel: Roberts and Hanks
Fired from his job for not having attended college, divorced supermarket worker Larry Crowne (Hanks) is immediately in today's typically rocky financial straits. Starting out, Larry is the tucked-in polo shirt and sensible windbreaker sort. But not for long: after enrolling at his local community college, he is taken under the sunny sartorial wing of economics classmate Talia (Gugu Mbatha-Raw), who remakes him with a sharp haircut and a garage-sale-chic wardrobe.
But while Larry is on the up and up, his speech-and-communications course teacher, Mercie Tainot (Roberts, sucking with relish on a lemon), is down, down, down. Larry could be just what Mercie needs, and by this point you should be hoping so. Because if America's enduring sweetheart and Hollywood's Mr Genial can't make such relatable characters fly, who can?
Hanks is an all-rounder on this grassroots lark, which he also co-wrote (with My Big Fat Greek Wedding 's Nia Vardalos) and directed with maximum positivity and affection. Bells and whistles are conspicuously absent but like its main man, Larry Crowne the movie is a contentedly unassuming piece of work.