COMEDY; 1hr 35min
STARRING: Bradley Cooper, Zach Galifianakis, Ed Helms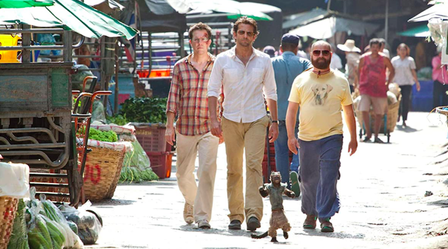 Monkey biz: from left, Helms, Cooper and Galifianakis
Having weathered the Las Vegas debacle of 2009's The Hangover, dentist Stu (Helms) is about to get hitched. And since the wedding is in Thailand and brothers-in-arms Phil (Cooper), Alan (Galifianakis) and Doug (Justin Bartha) are ready to roll, the deck is stacked for disaster, right? We're sure hoping it is, after the crack-up of Hang number one.
Part II sticks faithfully to the ain't-broke formula: the guys get together at a resort-beach bonfire for one harmless night-time beer, after which Phil, Alan and Stu come to hours later in a Bangkok flophouse. MIA is Stu's fiancée's teenage brother (Mason Lee). They have, however, acquired a chittering monkey and the nefarious Mr Chow (Ken Jeong, perennially helium-fuelled). All that remains is to figure out what went down.
Impassioned yelling is a large part of that process, with director Todd Phillips seeming in no rush to roll out the big laughs, many of which are packed into the closing credits. It's not that the cast don't put the work in, and Bangkok is a teeming, sweaty playground, but their lads-on-the-loose business pays a seen-it, second-time-around price.