HORROR; 1hr 46min
STARRING: Colin Farrell, Anton Yelchin, David Tennant, Christopher Mintz-Plasse, Toni Collette, Imogen Poots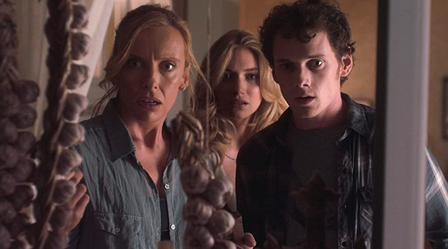 Shlock horror: from left, Collette, Poots and Yelchin
You know those deadly dull satellite suburbs? The one in Fright Night is not one of them — apart from the deadly bit, that is. It looks the sterile part, with its manicured streets and tidy matching houses. But this Nevada desert dust bowl has something most 'burbs do not: a resident 400-year-old vampire with the deceptively wholesome name of Jerry (Farrell).
Director Craig Gillespie (Lars and the Real Girl ) has pulled together a cool cast for his remake of Tom Holland's 1985 kooky spooker. Farrell drips slinky menace as the vampy bloodsucker, Tennant camps it as a Las Vegas magician, and Yelchin and Collette play it admirably straight as Jerry's understandably beside-themselves next-door neighbours, high schooler Charlie Brewster and his realtor mother. 
Marti Noxon's screenplay delivers the creepy-crazy goods as well, while keeping a close and ironic eye on its teen demographic. The horror comes with a cornball crust — vampires in Vegas? Say no more! But there's a dark and chewy edge to it that means seriously fanged business.