DRAMA; 1hr 41min
STARRING: Ryan Gosling, George Clooney, Philip Seymour Hoffman, Paul Giamatti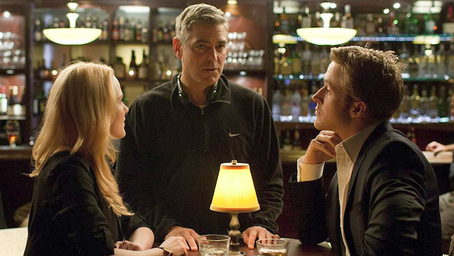 Race relations: from left, Wood, Clooney and Gosling
Given the US wisdom that "As goes Ohio, so goes the nation," the Ohio Democratic Primary Debate is a presidential candidate decider. Backstage in the build-up, handlers and minions are circling and speculating. In the camp of Governor Mike Morris (Clooney), press secretary Stephen Meyers (Gosling) is banking on his ideals-spruiking liberal "boy" as a ticket to success. Veteran Morris campaigner Paul Zara (Hoffman) is, meanwhile, a timeworn cynic; ditto his equivalent in the opposing team (Giamatti).
While Morris does his silky-fiery, strategic up-front thing, the real plot thickens as Stephen beds a bedazzled intern (Evan Rachel Wood) who holds an explosive secret. Can Morris win Ohio? The more Stephen learns about the governor's privately grubby MO, the more that question is entwined with his careerist future.
Gosling, so coolly impactful in Drive, is the engine that drives this tactic-centric, domino-effect gutter trawl, co-scripted from Beau Willimon's 2008 play Farragut North by director and star Clooney. Greyhound-lean and hungry, Stephen the believer hardens into the prototypical political animal in a pro forma race where integrity comes a poor second to survival.