DRAMA; 1hr 49min
STARRING: Vera Farmiga, Joshua Leonard, Nina Arianda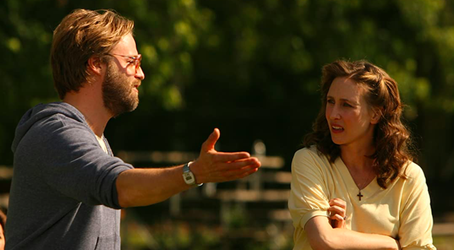 Breaking faith: Leonard and Farmiga
Vera Farmiga's intuitive directing debut scrolls easily through the childhood of a girl growing up in the sleepy, rural American Sixties. Corinne (McKenzie Turner as a child, Farmiga's sister Taissa as a teenager, Farmiga as an adult) embraces Jesus at a young age, marries local bluesy muso Ethan (Boyd Holbrook; Leonard as his repressed adult self) as a pregnant teen and by most appearances — barring the odd, unsettling flight of fancy — settles comfortably into her close, fundamentalist Christian community.
Unlike her spiky sister Wendy (Arianda), Corinne is a go-with-the-flow sort of girl who seems serene in her hands-on religious conviction. But she is also no pliable sponge and 15 years of preachy, dust-dry marriage can wear any woman down. "Draw near to me, Lord: where are you?" she pleads at one especially low moment. 
Where indeed? Not for nothing is faith referred to as a gift. When Corinne loses hers, she is both liberated and bereft. Co-adapted by author Carolyn Briggs from her 2002 memoir This Dark World, Higher Ground is about the baffling, sustaining, imprisoning, inherently contradictory nature of belief. A profound story, simply told, it cuts to the core of who we choose to be.