ACTION; 1hr 48min
STARRING: Richard Roxburgh, Ioan Gruffudd, Rhys Wakefield, Alice Parkinson, Dan Wyllie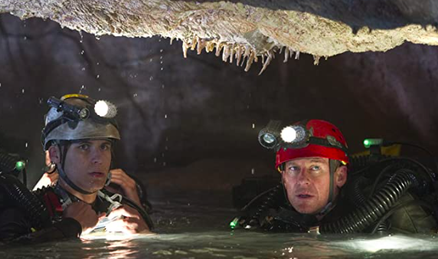 Tunnel vision: from left, Wakefield and Roxburgh
It takes a certain type to tunnel deep into an unexplored cave system, leaning heavily on their physical and mental strength every step of the way. And never were caves more primal than Papua New Guinea's Esa'ala, in which Sanctum 's gasp-producing diving expedition is set. Financed by a brash American billionaire (Gruffudd), the team of world-class Australian divers led by flinty Frank McGuire (Roxburgh) is 200 vertical metres down when disaster begins to strike.
An underwater death is claustrophobic in its immediacy. Then the unholy mother of tropical storms churns the unruffled waters into a roaring torrent, trapping the crew. Frank and his resentful son, Josh (Wakefield), now need to pull together for a superhuman effort at escape. And yes, this is inspired by actual events.
Executive-produced by Avatar 's James Cameron, directed by Alister Grierson (Kokoda) and fearsomely realistic, Sanctum takes you to places most people will never visit — from the buried moonscapes of its caves to the monumental courage it can take to withstand them.