DRAMA; 1hr 43min
STARRING: Daniel Radcliffe, Dane DeHaan, Jack Huston, Ben Foster, Michael C. Hall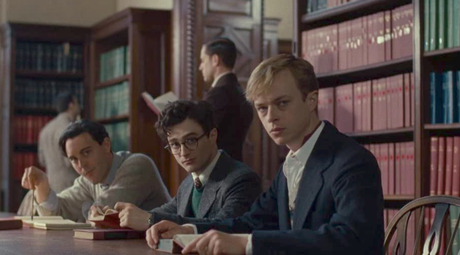 Bohemian rhapsody: from left, Huston, Radcliffe and DeHaan
In 1944, nascent poet Allen Ginsberg (Radcliffe), a freshman at New York's Columbia University, is instantly captivated by the casual arrogance of outrageous blond Adonis Lucien Carr (DeHaan). Carr introduces him to the literary bohemia of Jack Kerouac (Huston) and William Burroughs (Foster), and for the repressed Ginsberg, who has "spent my entire life making other people happy," the friendship is an intoxicant, its drug-spiked highs hammered out on a portable typewriter.
Together, the four men feel invincible with their New Vision mantra and cavalier defiance of the Columbian straight-and-narrow. The manipulative Carr is the supernova around whom the others revolve, but when he burns out, implicating his friends in his murder of a jilted lover (Hall as David Kamerer), the illusion of unity crumbles.
First-time feature director John Krokidas's dramatically laid-on insight into the dark corners of the emerging Beat Generation unearths ethical shocks. Ginsberg, Kerouac and Burroughs would later be celebrated for their artistry. But what really demarcates them here, underlined with premium, knowing performances, is their starry-eyed sense of indestructibility.