ACTION; 2hr 26min
STARRING: Jennifer Lawrence, Josh Hutcherson, Liam Hemsworth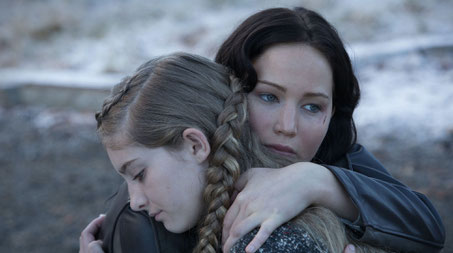 Hugging it out: from left, Willow Shields and Lawrence
Following their shared victory in Panem's 74th Hunger Games, teen Tributes Katniss Everdeen (Lawrence) and Peeta Mellark (Hutcherson) are whisked onto a rah-rah speaking tour they're not ecstatic about by the über-styled Effie Trinket (Elizabeth Banks). They're supposed to feign true love for the masses at the command of Machiavellian Panem President Snow (Donald Sutherland), which doesn't do much for them, either, plus Katniss, never the cheeriest, is suffering a taxing case of PTSD. Meanwhile, unrest is rife in the downtrodden Districts and hunky Katniss flame Gale Hawthorne (Hemsworth) is feeling the heat.
Then the Pres lobs his latest sadistic bombshell: another go-round in the arena of death for victors of previous Games. It's called a Quarter Quell and it's as much fun as Chinese water torture, which basically applies to this entire, Francis Lawrence–directed, production.
A costume parade for a fierce J.Law, a roll-out of spectacular sets and an underlying, acidic vein of political cynicism — there's more than enough to gorge on here, especially at two-plus hours. We've all been this way the first time around, but when these Games begin, bigger is apparently another word for better.