DRAMA; 2hr 8min
STARRING: Benedict Cumberbatch, Daniel Brühl, Carice van Houten, Moritz Bleibtreu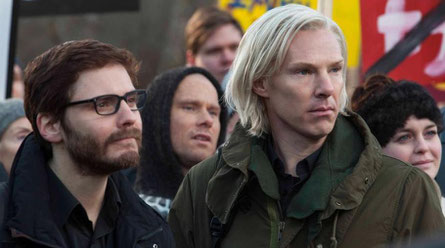 Secret service: from left, Brühl and Cumberbatch
In 2010, when a stockpile of classified US military and government records that bluntly expose hard truths is published in The Guardian, The New York Times and Der Spiegel, WikiLeaks website founder Julian Assange (Cumberbatch) is the star of the show. Twilight director Bill Condon then cuts back to the early days of the leaky chase in 2007, presenting scruffbudget Assange as the Robin Hood of corporate skulduggery. When the ceaselessly roving one-man band with a devouring passion for revealing secrets partners with techno savant Daniel Domscheit-Berg (Brühl), their bare-boned site becomes a mouse that roars.
The cost is a killer, in the end landing Assange in confinement in the Ecuador Embassy in London. Cumberbatch, wrapping himself gamely around a persuasive Australian accent, is freaky-compelling as a fixated mastermind on a boundless edge. "You can change the world with a great idea," Assange declaims. "But you can't do it alone."
Maybe so. But by the time Bradley Manning's leaked documents make their sensational, whistle-blowing entrance, the cracks in the Berg-Assange bond are a schism. Should individuals be compromised for the greater good? Adapted in part from Domscheit-Berg's 2011 book Inside WikiLeaks, Condon's industrious blow-by-blow neither judges nor condemns. It looks as though only time will get to make that call.