COMIC DRAMA; 1hr 45min (French with subtitles)
STARRING: Catherine Frot, Jean d'Ormesson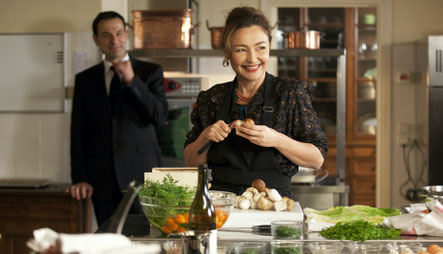 The logistics of cooking for a political leader are almost more important than the food. Périgord chef Hortense Laborie (a natural Frot) picks this up quick smart when she is hired — summoned, more like it — by French President François Mitterrand to run his private kitchen in the Élysée Palace. The hierarchy is stifling and the male chefs in the main kitchen pea-green envious.
Hortense is naturally unflappable and her homely dishes are divine: this is a woman (based on real-life Mitterrand cook Danièle Mazet-Delpeuch) who makes stuffed cabbage look like couture. Much to his toadies' ire, the President (d'Ormesson) takes an instant shine to the food — and to the femme charmant herself. 
A dressed-down Hortense first appears in Antarctica, where she has been cooking on a base for 12 months. Antarctica is about as far as you can get from anywhere, including the back-stabbing that after two years soured Hortense on the Palace. Such pettiness leaves a bitter taste. But the alchemy of inspired cuisine can't help but be sweetness and light.