ROMANTIC COMEDY; 1hr 41min (French with subtitles)
STARRING: Diane Kruger, Dany Boon, Robert Plagnol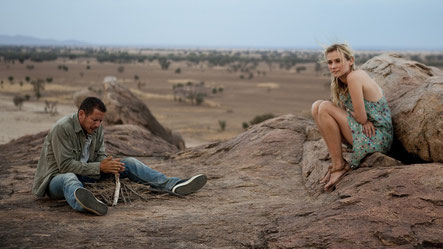 Moonstruck: Boon and Kruger
Family curses move in daffy ways in the featherweight Fly Me. Isabelle (Kruger) is mad about her boy, Pierre (Plagnol). She can't marry him, though, since every first marriage in her family ends in divorce. Her mad plan is to therefore engineer a quickie wedding with anyone at all, end it with a sped-through divorce and get hitched to Pierre, who, by the way, has no idea.
That quickie is where travel-guide reporter Jean-Yves (Boon) makes his left-footed entrance on an international flight. With the pretzel logic of a fluffball script, the faux lovebirds touch down in Kenya, where Isabelle seduces her quarry and marries him, as one does, chérie, in a Masai ceremony. Jean-Yves also has no clue and when he does wise up, he's far from happy. Who can blame him? At this stage, Isabelle is a ravishing bad egg.
But with Boon as the genial man of the moment, there's only one way this dance can bow out. Once the bumpy story settles into itself and becomes the love letter it wants to be, its puppy-dog exuberance is hard not to like. If not to love. Let's leave that to the French.