DRAMA; 1hr 37min
STARRING: Claire Dunne, Harriet Walter, Conleth Hill, Ian Lloyd Anderson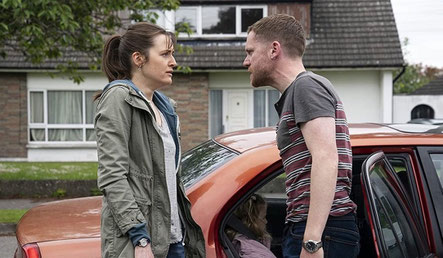 Unholy matrimony: Dunne and Anderson
Sandra Kelly (Dunne) is a Dublin wife and mother whose toxic husband, Gary (Anderson), makes quite the entrance in Herself 's opening act, putting the kybosh on Sandra's happy interlude with their two young daughters (a guileless Molly McCann and Ruby Rose O'Hara) by laying into her and smashing her hand. This time Sandra has had enough, but flying solo with a six- and an eight-year-old is a soul destroyer for anyone getting by on two cleaning jobs. You need to be made of the sternest stuff, which, despite her caring disposition and unassuming vibe, Sandra reveals herself to be.
When a doctor for whom she keeps house (Walter) offers Sandra land on which to build a low-cost home, plus financing to sweeten the pie, she's on her way out of make-do digs in an airport hotel to the realisation of an all-but-impossible dream. An initially leery contractor (Hill) agrees to lend a hand, and sundry helpers pitch in. But like misguided love, the course of construction tends not to run smooth and, true to bullyboy form, a seething Gary isn't going anywhere.
Mamma Mia! director Phyllida Lloyd and an unfussy Dunne don't labour any of these daunting obstacles. There's a tempering Irish lilt to Sandra's uphill road, yet nor does its measured screenplay — co-written by Dunne with Malcolm Campbell — shy away from the lingering injuries of domestic abuse. Pressing into the wind, Sandra is a winged bird lifted by an innate resilience and a support network sadly non-existent to so many forced to walk her path.