ROMANTIC COMEDY; 1hr 48min
STARRING: Tina Fey, Paul Rudd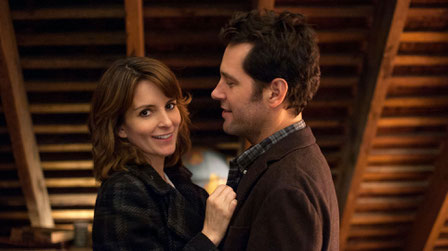 Teacher's pet: Fey and Rudd
Princeton University admissions officer Portia Nathan (Fey) wears a chink-free armour and she needs every rivet: sifting through thousands of blue-blood applications is pressure-plus. But since Portia is played by a pro to whom the irresistibly neurotic is second nature, it's a sure bet that her self-protective façade will be tinny and skin-deep.
And so it is when Portia's world is rocked by the breakdown of her decade-long relationship (with a dithery Michael Sheen), the emergence of a boy (Nat Wolff as Jeremiah) who could be the baby she gave up for adoption at birth, and the cruisey teacher (Rudd) who brings him to her stunned attention. Can Portia streamline Jeremiah's admission into Princeton? As a woman who obsessively trims her desktop bonsai tree, she's bound to give it the old college try.
Adapted by Karen Croner from Jean Hanff Korelitz's 2009 novel, the heart-tugging machinations are neatly handled by one and all through a spectrum of tonal shifts. Director Paul Weitz (About a Boy ) sidesteps any treacle while Fey and Rudd have an easy, back-and-forth business going on. They're funny, too, now and then, in a tart-smart sort of way. That was always on the cards.