COMIC DRAMA; 1hr 39min
STARRING: Chris O'Dowd, Deborah Mailman, Jessica Mauboy, Shari Sebbens, Miranda Tapsell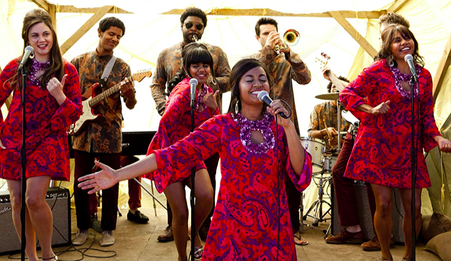 Troop troupe: Mauboy (front) with, from left, Sebbens, Tapsell and Mailman
As sunny as a deep-blue Australian summer afternoon, The Sapphires is the super-supportive, life-inspired story of four greenhorn Aboriginal girls who in 1968 take the wild ride of their young lives on a tour of Vietnam, performing for American troops as a soul quartet. 
Sprung from country-and-western obscurity by Irish ragamuffin muso turned on-the-spot manager Dave Lovelace (O'Dowd), himself down to the last remnants of his luck, the new-minted Sapphires — country gals sisters Gail, Julie and Cynthia (Mailman, Mauboy and Tapsell) and their citified cousin Kay (Sebbens) — sing up a storm and battle a flurry of personal squalls. "Mouth-on-legs" Gail, the pugnacious yet soulful mama hen of the group, and pale-skinned Kay have long-abiding, bitter issues, for starters, while Cynthia is bruised by romance.
But never too deeply! No matter how strained personal and racial relationships become, or how waffly director Wayne Blair's treatment of Tony Briggs's 2004 play has a tendency to be, a firm appreciation of strong women and a revitalising undercurrent of optimism bubbles beneath it and buoys it up. Like Mauboy at full vocal throttle, truth has a singular power.