DOCUMENTARY; 1hr 34min
DIRECTED BY: James Marsh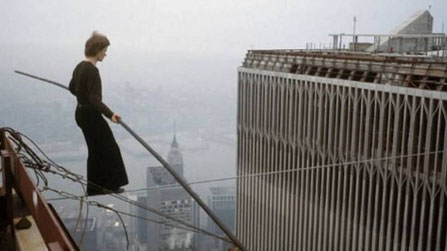 On top of the world: Petit (in New York in 1974)
Thirty-four years ago, in 1974, French daredevil Philippe Petit balanced on a wire strung 1,350 feet above the ground between New York's Twin Towers. How he came to be there makes a keenly fascinating documentary, narrated by Petit and his maverick crew with a clarity and immediacy you know will never desert them.
The Towers wasn't Petit's first high-wire walk: he'd taken to the skies in 1971 at Notre-Dame cathedral in Paris and over the Sydney Harbour Bridge in '72. But to walk between Manhattan's tallest buildings was his passion while they were still on the drawing board.
Director James Marsh nimbly bridges now and then by combining real footage and re-enactments, with an impish Petit the bubbling source of central energy. His walk is as intricately executed as the most elaborate hustle, which in a sense it was since Petit on the wire is an awesome defiance of probability. Its consequences — and the terrible fate of the Towers — bring a poignancy to the celestial conquest that was never a part of the high-flying plan.