ROMANTIC COMEDY; 1hr 56min (English, Danish with subtitles)
STARRING: Pierce Brosnan, Trine Dyrholm, Kim Bodnia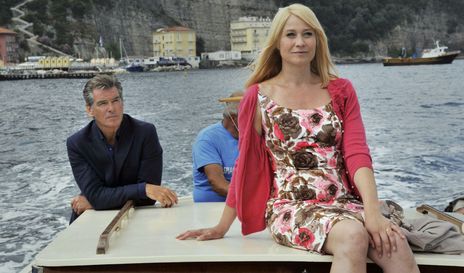 Bon voyage: Brosnan and Dyrholm
Danish hairdresser Ida (Dyrholm) is the walking definition of unfortunate in director Susanne Bier's shiny-happy shout-out to romance. Ida has breast cancer and a cheating louse of a husband (Bodnia). While parking at the airport on her way to the wedding in Italy of her daughter Astrid (Molly Blixt Egelind), she slams into the car driven by her future son-in-law's handsome father, Philip (Brosnan), whom she has never previously met. Oopsie.
Being a workaholic widower torn up by his wife's death, Philip is not amused by that or anything else. He clearly needs to fall head-over-heels with an adorably unlucky Danish hairdresser who has put herself second for far too long. What serendipity, then, that his oceanfront Sorrento villa, where the wedding is to be held, is a piece of heaven with a lemon grove attached! 
Bier (In a Better World ) is skating on soap here but I didn't care. It's amore, not rocket science, after all, and a little Italian allure can paper a whole lot of cracks.