DRAMA; 1hr 44min
STARRING: Daniel P. Jones, Leanne Letch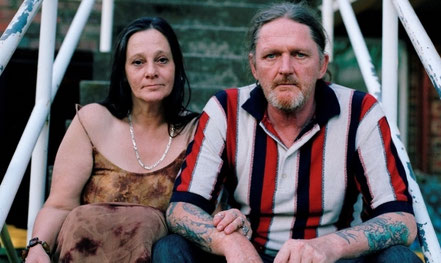 Doing it tough: Letch and Jones
Uncompromising in its melding of imagination and reality, Hail is the thorny offshoot of a six-year collaboration between writer-director Amiel Courtin-Wilson (Bastardy ) and actor Daniel P. Jones, the man whose seamy world he mirrors. Courtin-Wilson's lingering appraisal can make even a panelbeater's workshop look poetic, which comes in handy since that's where Danny (Jones) finds work after his release from prison in Melbourne.
"Can't judge a book by its cover, buddy," he cautions a prospective employer. Yet if you were to do just that, Danny is daunting, timeworn and tatted, with a face that's a map of a life hard-lived. His woman, Leanne (Letch, Jones's actual partner), is his guiding light but Danny is a troubled soul, their relationship is explosive and going straight is another imprisonment. Then everything comes undone.
In a sense, Courtin-Wilson is damned either way — to soften his anarchic material would be patronising and false, yet the grass-roots actuality is unremitting. The triumph of Hail 's brute force is its blanket refusal to back down, even though, in the thick of it, you may want to back away.