COMIC DRAMA; 1hr 50min
STARRING: Colin Farrell, Sam Rockwell, Christopher Walken, Woody Harrelson, Abbie Cornish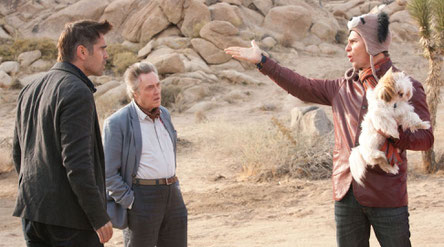 Crime wave: from left, Farrell, Walken and Rockwell
As you'd expect, nutjobs abound in writer-director Martin McDonagh's tangled web. A masked shooter with a Jack of Diamonds calling card is a recurring motif, regrettably for the mobsters he shoots. So, too, is LA gangster Charlie Costello, who is distraught when his adored Shih Tzu , Bonny, goes missing. 
Little does psycho Charlie know that Bonny has fallen into the dognapping hands of unemployed actor Billy (Rockwell). Billy's best friend, Marty (Farrell), is meanwhile struggling with a niggling drinking problem, the flameout of his relationship with over-it Kaya (Cornish) and his screenplay, Seven Psychopaths. What with one quirk of fortune and another, he's about to encounter some hands-on lunatic experience.
McDonagh (In Bruges) has a caustic feel for the ridiculous and his actors lap it up, sashaying lightly between the preposterous and the intense. Walken is in his elegant element as Billy's world-weary dognapping partner, who nicks pooches for the reward money. He's not quite what he appears to be, and that's to be expected, as well: McDonagh's strange creations are impossible to predict.