DRAMA; 1hr 48min (German with subtitles)
STARRING: Saskia Rosendahl, Kai-Peter Malina, Ursina Lardi, Hans-Jochen Wagner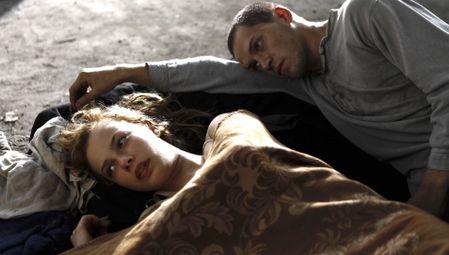 Love sick: Rosendahl and Malina
At the end of World War II, with the Nazis routed and Germany under Allied control, the countryside is a no-man's-land for the displaced children of a former SS officer. After their parents (Lardi and Wagner) are imprisoned, teenage Hannelore "Lore" Dressler (Rosendahl) and her four younger siblings must make their lonely, 900-kilometre way to their grandmother's house in Hamburg.
Their journey, co-scripted by Somersault director Cate Shortland from an aspect of Rachel Seiffert's 2001 novel The Dark Room and performed in German, is predictably punishing. Cadging food where they can, the children endure hostility and the pervading, grisly presence of death. Stalwart Nazi lore — opaque of expression and tightly braided of hair and emotion — is no shirker of principles, yet when she falls ill, it's a young Jewish man (Malina) who cares for her, arouses her and erodes her preconceptions.
Lore isn't grateful at first. She seethes with a prejudice documented by Shortland with meditative, paradoxical beauty. Shortland's self-possessed direction takes the same contemplative tone as Lore's desperate alliances and drastic acts are laid out with the steady intent of a chess player. The unadorned facts are enough, after all.