DRAMA; 1hr 42min
STARRING: Bradley Cooper, Jeremy Irons, Dennis Quaid, Olivia Wilde, Zoë Saldana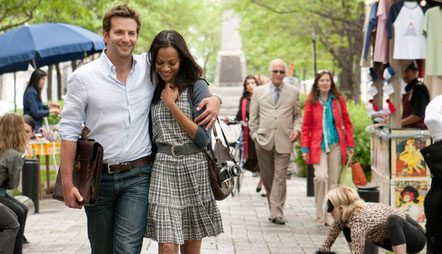 A novel life: Cooper and Saldana
Award-winning New York author Rory Jansen (Cooper) is on top of the world, with a beautiful, worshipful wife, Dora (Saldana), and a universally adored debut novel. Here's the thing, though: he didn't actually write it. The man who did (Irons) is acutely aware of that.
Five years earlier, Rory's is a very different story. With his work repeatedly rejected, he's angry and despairing. Just then, he comes across an old manuscript whose beauty bowls him over as he retypes it on his computer. "He needed to know what it felt like to touch it," author Clay Hammond (Quaid) reads to a rapt crowd from his new novel, The Words, in which Rory and Dora are characters.
Like a set of Russian dolls, the worlds within worlds of writing-directing team Brian Klugman and Lee Sternthal's fascinating debut movie dovetail into an intricate whole. The Words is a lesson in how one rash action can tip a lifetime moral scale. It's also a jewel box of great roles, with The Hangover goofball Cooper testing ambiguous depths as a man who comes to realise that what he longs for most of all will forever be beyond his reach.