ACTION; 2hr 22min
STARRING: Jennifer Lawrence, Josh Hutcherson, Donald Sutherland, Liam Hemsworth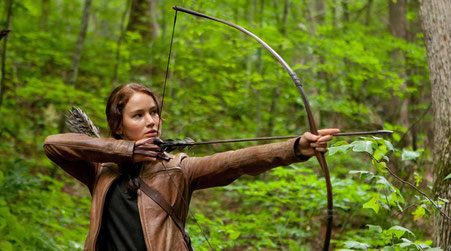 In a macabre future, a dozen pairs of 12- to 18-year-old "Tributes" are sacrificed by a punishing government in annual, to-the-death, televised "Games." That's the premise of Suzanne Collins's unputdownable Hunger Games trilogy, brought to the big screen with hefty intent by director Gary Ross (Seabiscuit ). 
Ross sticks closely to the original script, with 16-year-old Katniss Everdeen (Lawrence) volunteering to take the p;lace of her younger sister (Willow Shields) in the Games. Joining Katniss is baker's son Peeta Mellark (Hutcherson; Hemsworth is the guy she leaves behind). Diabolical President Snow (Sutherland, as dignified as an undertaker) oversees the inhumane proceedings. After brief training, while quartered in decadent luxury, the Tributes are dispatched to an immense wooded arena where they take each other out for the benefit of a riveted television audience.
The paradox of camera-friendly glitz and lethal intent is an uncompromising analogy for life, as harshly daunting onscreen as on the page. Ross has a cast of serious contenders — Woody Harrelson, Stanley Tucci, Wes Bentley, Lenny Kravitz, Elizabeth Banks… — and rightly so for this intensely serious film. Alive with intent, Lawrence makes a fierce Katniss. It's through her wary eyes that the freakish show unfolds as a coolly orchestrated torment and the ultimate frontier of crazed reality TV.