DOCUMENTARY; 1hr 28min
DIRECTED BY: Cindy Meehl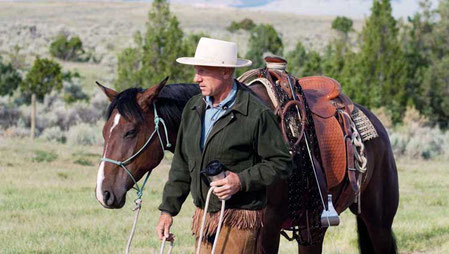 When Dan M. "Buck" Brannaman says that "horses are my life" in his reflective western drawl, you'd better believe he means it. A real-deal horse whisperer, Buck has an uncanny way with touchy steeds, which is why he criss-crosses the US for nine months each year, running horse clinics for endlessly fascinated followers.
Buck's empathy with the animals is hard won: having grown up with an abusive father, he understands suffering and fear. He also grew up a cowboy, trick-roping at age three, and his riding style — at one with the horse at every moment — is balletic grace. (The 50-year-old looks the cowboy part, as well, with the weathered face, the hat, the chaps and the bandy-legged, rangy stroll.) 
This is a man you instinctively trust, and director Meehl's glowing affirmation of him is echoed by everyone he has touched through his understanding and skill, The Horse Whisperer director Robert Redford included. What they all have learned, which Meehl's eloquent portrayal emphasises, is that Buck's paradoxically elemental and profound work is as much about the people who ride them as the horses themselves.