DOCUMENTARY; 1hr 19min
DIRECTED BY: David Roach & Warwick Ross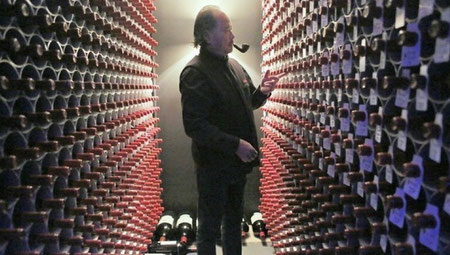 The $60 million wine cellar: Chinese businessman Peter Tseng
"As powerful nations rise and fall," narrator Russell Crowe observes over blissful rural vision in the opening minutes of this surprisingly absorbing doco, "so does the fate of this place." "This place" is France's Bordeaux region: timelessly bewitching red-wine country, its magic-charged air is home to such iconic chateaux as Lafite, Latour and Margaux, their grapes crafted by centuries of TLC. Mother Nature being female and fickle, however, some years yield heavenly vintages while others are a "pruney" letdown.
When prices do soar, as they did in 2010, the wines become too precious to drink, oh the irony, and investors spend a petite fortune on bottles they'll never open. For that privilege, the French focus is now on China, home to 271 known billionaires who can't get enough of the old ruby red. But high-stakes trade is not without its hiccups... 
Writer-directors David Roach and Warwick Ross's punchy study of vino as high-concept commerce is awash in fascinating stats and cultural observations. Don't expect a dusty monotone: this front-row cruise through rampant consumerism — counterfeit vintages coming up! — is a cork-popping wow zone.