ACTION; 2hr 29min
STARRING: Johnny Depp, Armie Hammer, William Fichtner, Ruth Wilson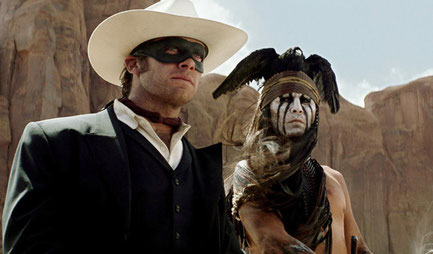 Hi yo! From left, Hammer and Depp
Lawyer turned Texas Ranger turned justice-dispensing loner John Reid (Hammer), his Comanche ally Tonto (Depp) and his standout white horse, Silver, have been kicking around on radio, TV, in books and in movies since 1933. Their raw and untamed American Wild West bubbles like a spicy home brew in director Gore Verbinski's frisky rework, where outlaws are rattlesnake-mean and operatic thuggery is as commonplace as six-shooters.
As this revitalised version tells it, John and Tonto aren't a seamless fit. But from train-wreck beginnings, their singular partnership flourishes, along with their shared aim of capturing barbarous outlaw Butch Cavendish (Fichtner) and John's resolve to rescue his brother's kidnapped widow (Wilson), on whom he is patently sweet.
Rangering is serious business but the daffy rapport between a deadpan Depp and a repeatedly flustered Hammer makes light work of it, as well. The Lone Ranger covers miles of moral ground with the bedevilled emerging of the Transcontinental Railroad. But at its centre, as ever, are two strange outsiders and one very handy horse. They worked back in the 1930s and zooshed for a new generation, they're working a treat today.