DRAMA; 2hr 10min
STARRING: Matthew McConaughey, Tye Sheridan, Jacob Lofland, Reese Witherspoon, Sarah Paulson, Ray McKinnon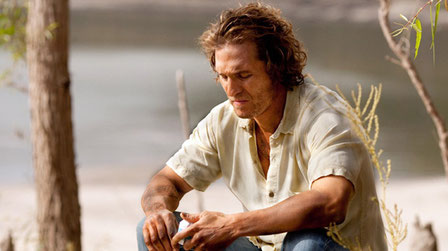 With some kids, you can see the man in the boy's face. Tye Sheridan is one. His gravity works tellingly as watchful 14-year-old Arkansas boy Ellis, who wears his heart in his eyes and in his fists. It's Ellis who takes the lead from his more wary friend, Neckbone (Lofland), by lending a hand to a stranger (a leathery McConaughey as Mud) living rough on a Mississippi island.
Mud is waiting for the woman with whom he's obsessively in love (Witherspoon). He's also a wanted man. Ellis, grappling meanwhile with his parents' upcoming divorce and the family's uprooting from their houseboat, admires what he sees as Mud's old-school chivalry, even though the unvarnished facts tell a darker story.
Take Shelter writer-director Jeff Nichols's considered rhythms keeps their outcome options open as the net tightens around Mud, and the boys become his sole hope of escape. Down-pat resolutions are never in the picture, and that's exactly the way it should be. People are an endless puzzle, after all, especially when viewed through the artless gaze of a child.