COMIC DRAMA; 1hr 37min
STARRING: James McAvoy, Jamie Bell, Shauna Macdonald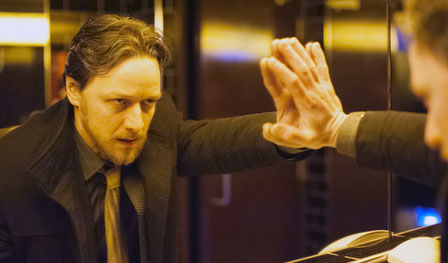 Long arm of the law: McAvoy
Detective Sergeant Bruce Robertson (McEvoy) is a head case with the fizzing short fuse only Trainspotting novelist Irvine Welsh could come up with (Jon S. Baird wrote the screenplay and directs). Bruce is angling for an at-all-costs promotion, but he's not exactly Detective Inspector material, being mentally unstable, sexually perverse, a substance abuser and a chauvinistic, slimeballish, undercutting conniver. He's also not the only Scottish copper in line for the new slot, his partner Ray Lennox (Bell) being the wild card to watch.
Exactly how much Bruce's vampy wife, Carole (Macdonald), knows about the man she's nominally married to is questionable since, for reasons that become clear later, they spend no time together. Instead, Bruce is far too busy getting up to no good with his colleagues and their wives while trashing himself on opiates when he should be out solving a murder.
The lion's share of weirdness falls to McAvoy, who blazes the freaky trail of a man going down as Bruce plays dirty with a rotating roster of victims while continuing to lose control — a fact of which he is painfully aware. It's a black-diamond performance in a brutal and startling vivisection.