HORROR; 1hr 37min
STARRING: Emily Blunt, Cillian Murphy, Millicent Simmonds, Noah Jupe, John Krasinski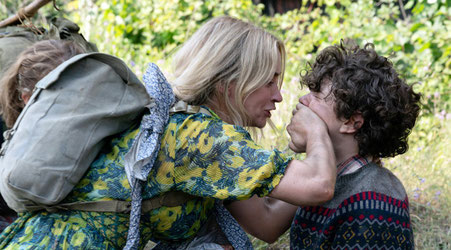 Hush hush: Blunt with Jupe
Day 1, the prologue to writer-director John Krasinski's sequel to 2018's A Quiet Place, heads back to where it all began for the bedevilled Abbott family, with their small-town invasion of murderous aliens. The clicking, sabretoothed creatures scuttle and leap like grossly mutated primates, are blind as bats but can hear a pin drop and move to kill like greased lightning.
Flash forward to Day 474 and nothing has improved. Lee Abbott (Krasinksi), who appears in the prologue as a brutal reminder of what a great guy he was, is dead and his surviving family — wife Evelyn (Blunt), deaf daughter Regan (Simmonds), son Marcus (Jupe) and the baby in a box (sigh) — are on the move, looking somewhat the worse for wear, through wooded terrain that reeks of danger.
Sure enough: after Marcus snags his foot in a bear trap, the fam is rescued by Lee's friend Emmett (Murphy), who doesn't seem thrilled to see them. Complicating matters, Regan takes off on a cockamamie mission to a nearby island to broadcast the squeal of her cochlear implant — which the creatures can't abide — from a radio tower. Emmett goes after her while Evelyn creeps away to gather medicine for Marcus. Just another day at the end of the world.
If it is true, as writer Jean-Paul Sartre ungenerously noted, that hell is other people, Krasinski's alternative is a limbo in which the petrified few who remain prowl noiselessly through the remnants of what was. There's some dialogue in Part II, and a hefty serve of monster mashing. But its most potent weapon, tensile performances aside, is still a silence more imprisoning than any locks or bars. Layer that with the overarching terror of a plague whose reason for being is to seek and destroy, and this anatomy of misery, released after a 14-month, pandemic-related delay, lands like a shock of recognition in our own infected world.