SCI-FI; 1hr 49min
STARRING: Matt Damon, Jodie Foster, Sharlto Copley, William Fichtner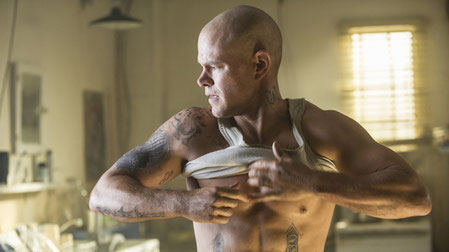 Even on a microbudget, District 9 director Neill Blomkamp did grot-encrusted dystopia with natural panache. Elysium is a big-ticket production but the writer-director's grimy stamp on a ghettoised Los Angeles is still unmistakable. In 2154, the ravaged, overcrowded, droid-policed city is a hellhole for the unlovely poor, while on starry satellite settlement Elysium, the manicured rich live large, as the manicured rich always have.
Max (Damon) has long dreamed of settling there and after exposure to radiation leaves him with five days to live, he gets his all-or-nothing chance through an extreme kidnap. The target is Max's callous factory boss (Fichtner), who happens to be masterminding a coup with Elysium's ruthless Secretary of Defence (Foster; District 9 's Copley is her loose cannon for hire). The MO includes a data-brain transplant that gives Max a life-changing edge. 
Blomkamp's gut-slammer puts Damon through the  wringer and the hardy trouper goes at it full tilt, pummelling sternly away at rampant injustice. Elysium 's imposing firepower doesn't quite add up to the groundbreaking magnetism of District 9. But it's a ripper story all the same and Damon always gets it right, whichever side of the cultural divide he's on.