DRAMA; 1hr 38min
STARRING: Judi Dench, Steve Coogan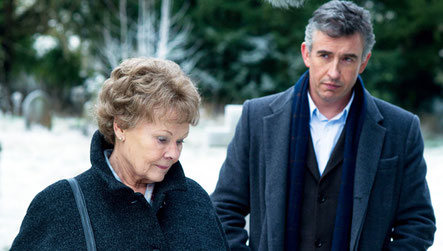 The power of two: Dench and Coogan
Judi Dench's star turn as an Irishwoman searching for her grown son is a compulsive soul-stirrer, especially since it is based on true events. Unmarried Philomena Lee (Dench) lost her three-year-old boy when censorious nuns sent him to American to be adopted. Fifty years later, still aching to find him, she crosses paths with a former BBC journalist, Martin Sixsmith (Coogan), who has been ignominiously fired from a political position.
Sixsmith doesn't generally cover human-interest issues, which he regards as beneath him. He's a sophisticated, disillusioned cynic — the worst kind. Philomena is humble, humane and devout, her story too powerful to resist. The two become improbable allies, travelling together to America for a mutually life-changing search.
With Stephen Frears (The Queen) directing and Dench and Coogan (who co-wrote the screenplay) matching their considerable wits, the voyage of personal discovery is unsentimentally related and progressively moving, its nobility of spirit wrapped up in a diverting marriage of opposites. Philomena is about the open-heartedness of holding true to faith, and the light that strength can shine on everyone around you.