COMIC DRAMA; 1hr 40min
STARRING: Gabriel Byrne, Jessica Paré, Brian Gleeson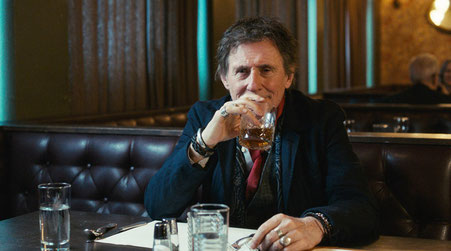 Like misery, misfortunes also love their own company, as Montréal-based lit professor Samuel O'Shea (Byrne) is about to learn in an abysmal run of luck. It kicks off with his discovery of his resentful young wife (Carolina Bartczak) having tit-for-tat sex in her and Sam's marital bed with a man much closer to her age. Moving right along, Sam slams headlong into hallucinations. His dead father, Ben (Gleeson), now also far younger than his son, drops by for fireside chats. A buddy in a bar morphs into Frankenstein. Leonard Cohen's music is an ongoing motif, his "Bird on the Wire" in one instance replacing the national anthem at an ice-hockey game. Sixty-four-year-old Sam is a womaniser and a drunk, but not even his self-estimated 23 alcoholic drinks a day can explain the visceral impact of these deranged invasions. Their actual cause, he eventually learns, is an inoperable brain tumour that gives him two to 12 months to live. Ouch.
Sam is rocked by this news, of course, but says nothing to either his French-Canadian ex-wife (Suzanne Clément) or their two grown children (Antoine Olivier Pilon and Karelle Tremblay), keeping them at arm's-length as he does every aspect of his self-indulgent existence. Resolving to write a book rather than teach other people's, he takes himself home to Ireland where Ben is waiting for him in a cottage by the sea. Also waiting is a romance with Charlotte (Paré), who could be Sam's last great love.
Written and directed by Matt Bissonnette, Ladies' Man keeps a close eye on the imperatives of accountability, with a playfully poetic way of making its point through the reconfigured lens of a dying man's eyes. As Sam, Byrne's rumpled sturdiness in the face of his loopy visitations and numerous failings shines a hopeful light on his final farewell. If he does have to bow out, he'll do it in singular style.