DRAMA; 2hr 4min
STARRING: Tom Hanks, Barkhad Abdi, Catherine Keener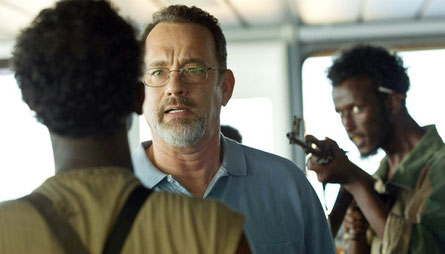 Desperadoes: Hank and (rear) Abdi
Tom Hanks approaches the role of Capt. Richard Phillips in the same way it's easy to imagine he approaches everything he takes on: with centred and instantly trustable dignity. He's the guy you want beside you in a crisis, and that's exactly what the captain and his container-ship crew are facing in this driver's-seat re-creation from United 93 director Paul Greengrass.
While sailing from Oman to Kenya in 2009, the Maersk Alabama was hijacked by Somali pirates, the first such incident in 200 years. Greengrass tells the true-life tale with his characteristic white-knuckle thoroughness: within the first 30 minutes, the Maersk is under threat from armed and frantic men. What follows, after four pirates board the ship, is frightening and surreal. Led by a man of dangerous, volatile intelligence (Abdi as Muse), the pirates, feverishly played by untrained actors, are plainly capable of anything.
The captain is a rock, but his strategies can't protect him from their feral wildness. How he prevails when thousands wouldn't is a testimony to the uncommon mettle of the man and an edge-of-seat epic of endurance.