COMEDY; 1hr 59min
STARRING: Will Ferrell, Paul Rudd, Steve Carell, David Koechner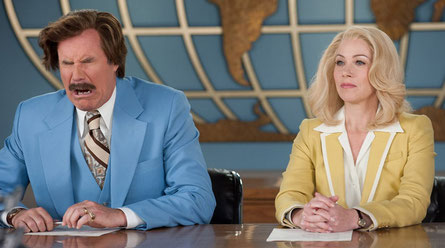 Breaking news: Ferrell and Applegate
In a stunning comedown after his inglorious sacking and the promotion of his TV co-anchor, and now-estranged wife (Christina Applegate), 1970s newsroom somebody Ron Burgundy (Ferrell) is a dolphin-show announcer at San Diego SeaWorld. He's drinking too much and is ineffectually suicidal. Then Ron cops a break — as graveyard-shift anchor of America's first 24-hour television news channel. Once again, "salon-quality hair" is within his reach.
Having reassembled his team — player-at-large Brian Fantana (Rudd), ludicrously stupid weatherman Brick Tamland (Carell) and touchy-feeling sportscaster Champ Kind (Koechner) — Ron's new mantra, of telling audiences what they want to hear, pulls stellar ratings. Ah, but what goes up…
Given the huge following generated by 2004's Anchorman (also directed by Adam McKay, who once again co-wrote the screenplay with Ferrell), is number two worth the wait? Is it ever! These guys are Goofball Central. The high jinks take a slight dip when Ron loses the plot, then finds himself. But the foursome eggs each other on to delirious lengths, while Ferrell, who is to an out-there gag like a hound to a fox, has never been in better form as the loopy newsman we wish we really had.