COMIC DRAMA; 2hr 2min
STARRING: Bradley Cooper, Jennifer Lawrence, Robert De Niro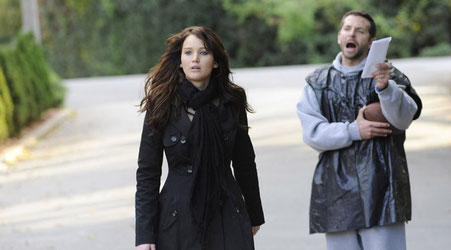 Mad about you: Lawrence and Cooper
Freshly released from a psychiatric hospital, needy, bipolar Pat Solitano Jr (Cooper) is trying to turn dark into light. Silver linings are thin on the ground, however, reeling as he is from a broken marriage and the loss of his teaching job under not-pretty circumstances. Back home with his hard-pressed Philadelphia parents (De Niro, in top form at last, and a simpatico Jacki Weaver), Pat is a time bomb with no apparent Off switch.
"Crazy whore widow" Tiffany (Lawrence), whom Pat encounters at a disastrous dinner, is another mobile explosion. The gnarly twosome could be the ultimate fit, although the chances of them keeping it together seem a notch below zero. Then they start to dance, and writer-director David O. Russell's zippy catalogue of dysfunction evolves into something hopeful and new. 
Russell's screenplay of Matthew Quick's 2008 novel gives mental illness a bracing, endearing spin, with wide-open work from Cooper and Lawrence and a tender honesty that nails the strange and the loopy by refusing to reduce them to hammy clichés.