SCI-FI; 2hr 52min
STARRING: Tom Hanks, Halle Berry, Jim Broadbent, Jim Sturgess, Doona Bae, Ben Whishaw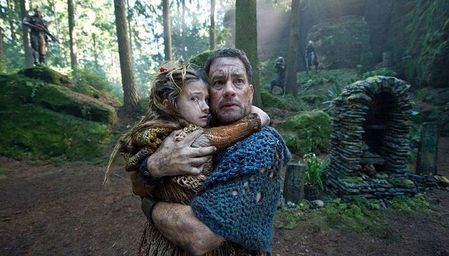 Who, when, where, what, why? Hanks (with Raevan Lee Hanan)
It took three directors — Tom Tykwer and Andy and Lana Wachowski — to shape David Mitchell's 2004 doorstop novel into a kaleidoscopic, brain-teasing feature. That's not surprising: the six interlocking strands of Cloud Atlas thrum with say-what? propositions.
The chronology intercuts between centuries, from the South Pacific of 1849 to a degraded future by way of the 1930s and '70s. Its characters include 19th-century notary Adam Ewing (Sturgess, who, like the other principals, plays multiple roles) and his devious physician, Henry Goose (Hanks); 1931 bisexual musician Robert Frobisher (Whishaw) and Robert's married lover, Jocasta Ayrs (Berry); 1975 crusading journalist Luisa Rey (Berry again); contemporary small-beer publisher Timothy Cavendish (Broadbent), trapped in an old folks' home; and future-world clone waitress Sonmi-451 (Bae).
Confused yet? No question about it: Atlas is one thumping great dazzler draped over a latticework of riddles. At their core is the reincarnation of the soul through a hotchpotch of people. You could call that a metaphor for humanity. As a movie, I'm calling it a twisty, emotion-charged, eye-popping coup.