ACTION; 1hr 53min
STARRING: Kurt Russell, Rosario Dawson, Sydney Tamiia Poitier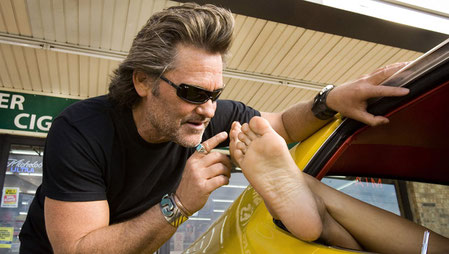 Grindhouse cinema was an American exploitation phenomenon of the 1960s and '70s that revelled in lurid decadence. Who better to resurrect the spicy genre than the wickedly inventive Quentin Tarantino, with his film-maker's love of flashy, full-bodied visuals?
Although Death Proof is set in the present, Tarantino dives into the raunchy grindhouse spirit with Texas radio DJ Jungle Julia (Poitier) on the town with her gal-pals (Jordan Ladd and Vanessa Ferlito). Just another girls, night out — except they're being shadowed by a maniac (Russell) in a muscle car built for killing.
Ever the bower bird, Tarantino plays with the sexist-splatter form, loading it with dialogue, aging film stock to simulate worn-down prints, chopping the ends of scenes in el cheapo style and revelling in the inevitable gore. It works fine for the first segment, flattens when fast-forwarded to a second group of femmes (Dawson, Mary Elizabeth Winstead, Tracie Thoms and Zoë Bell), then builds to a breakneck crescendo that does for the car chase what Pulp Fiction did for John Travolta's career.