COMEDY; 1hr 47min
STARRING: Ricky Gervais, Tina Fey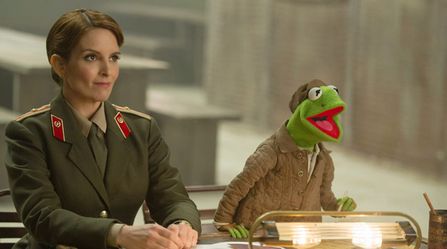 In the Old Hollywood homage of Most Wanted 's opening number, the limelight-loving Muppets declare that "everybody knows/ the sequel's never quite as good." Copy that! But director James Bobin's overworked continuation of the troupe's 2011 zinger is still a fun-lover, even though Kermit (voiced by Steve Whitmire) is framed by dead-ringer master criminal frog Constantine (Matt Vogel) and his human sidekick, Dominic Badguy (Gervais).
Badguy has inveigled himself as the Mupps' European tour manager, his real agenda being to steal the British crown jewels. With Constantine and his cloak-and-dagger Ruskie accent feebly posing as Kermit and the real, froggy deal incarcerated in a Siberian gulag overseen by a stylish warden with a weakness for show tunes (Fey), the scene is all set for celebrity-heavy silliness in first-class locations.
The musical confections are as starry as anything Broadway conjures up and the material guys are a charmball offensive onstage and off. Between the skulduggery and the VIP sightings (Lady Gaga, Salma Hayek, Celine Dion, Sean Combs, Danny "Machete" Trejo and Christoph Waltz, dancing one…), there's barely time to blink. But there's barely a dull moment, either.