DRAMA; 1hr 59min
STARRING: Don Hany, Hugo Weaving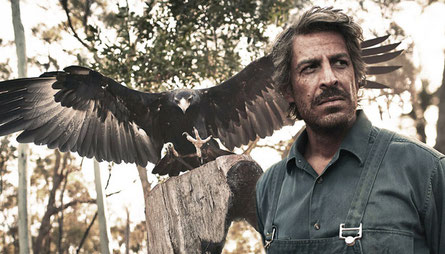 Serving 18 years for murder, Viktor Khadem (Hany) is tangibly damaged. About to close out his final year at Won Wron prison farm, he is walled off from his cellmates (Xavier Samuel and Mark Winter) inside a deep seam of misery.
But he's not unreachable. When prison officer Matt Perry (Weaving), nursing his own private hurt, introduces a program in which inmates care for injured raptors, Viktor feels an immediate affinity with imperiously defensive wedge-tailed eagle Yasmine (a role shared by Bart, Grace and Stella). Slowly, he begins to rediscover a purpose. It's by no means plain sailing, prisons being societal hotbeds. But there are long-denied depths to Viktor that Matt, as much for himself as for the man in his care, is determined to bring out.
That director Craig Monahan (The Interview) and his co-writer, Alison Nisselle, have based their screenplay on real events adds a personal edge to its already poignant impact. Monahan is least effective when delving into prison dynamics and most heartfelt when the soul-stirring Hany is centre stage. And throughout, the valiant birds bring the gifts of possibility and grace.