ACTION; 2hr 14min
STARRING: Brad Pitt, Shia LaBeouf, Logan Lerman, Michael Peña, John Bernthal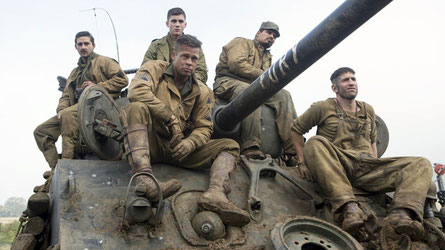 On the war path: from left, LaBeouf, Pitt (front), Lerman, Peña and Bernthal
The interior of a World War II Sherman tank is a claustrophobic cell from hell. Writer-director David Ayer, who dove into the psyche of police work in End of Watch, brings that serrated rigour to the blood and thunder of Fury, labouring through the muck into the smoky death throes of the slaughter in Nazi Germany.
"Fury" is a tank commanded by Sgt Don "Wardaddy" Collier (Pitt) and manned by his tight-welded crew. Boyd "Bible" Swan (LaBeouf), Trini "Gordo" Garcia (Peña), Grady "Coon-Ass" Travis (Bernthal) and Norman Ellison (Lerman). Norman, the movie's heart, is a greenhorn typist recruited on the fly as assistant driver after the regular guy bites the dust. Since the men must function as one, hardass Wardaddy either licks the kid into barnacled killer shape quick-smart or his entire, already seriously imperilled operation is compromised.
The mentor–pupil bond between calloused pro and grass-green rookie might have been more involving if Ayer hadn't sacrificed depth of character to the overpowering pall of war. The men attack with shredded nerve but the blaring chaos is an exhausting barrage and you're rapidly benumbed by it.