COMEDY; 1hr 39min
STARRING: Jennifer Aniston, Yasiin Bey, Isla Fisher, Will Forte, Tim Robbins, John Hawkes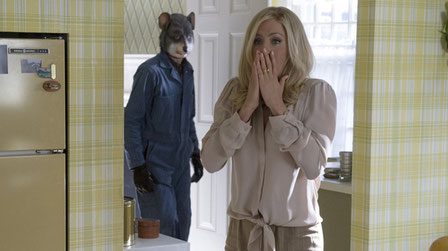 Trouble and strife: Aniston (with Hawkes)
The best and brightest movies of Elmore Leonard's novels (Out of Sight, Jackie Brown, Get Shorty ) sizzle with deranged spark. Life of Crime — about the low-rent 1978 kidnapping of a shady Detroit property developer's wife — doesn't exactly top the scale, but it does have a fun time on the climb.
Ordell and Louis (Bey, aka Mos Def, and Hawkes) are the blundering perps, Frank (Robbins) is the shady and unlikeable developer, Mickey (a damped-down Aniston) is his pained wife and Melanie (Fisher) his professionally pert mistress. The jig goes south from the start, with a smashed jar, a cut foot and an amorous interloper (Forte) on the scene. Plus, what nobody has bargained on is that since Frank has just filed for divorce, Ordell and Marshall's million-dollar ransom demand doesn't have quite the pull it could have.
Writer-director Daniel Schechter's monkey biz needs a punchier shot of Leonard's distinctive hustle. But there's a certain schadenfreude in watching half-baked plans take a tumble and Aniston is a downcast treat — with some well-played tricks up her pin-neat sleeve.