ACTION; 2hr 22min
STARRING: Christian Bale, Joel Edgerton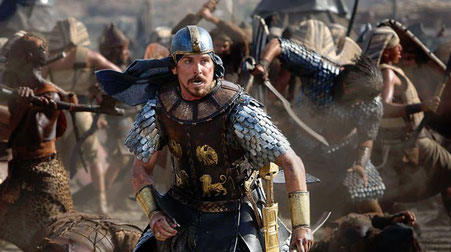 Showcased in the usual gratuitous 3-D, director Ridley Scott's Hollywood-spangled slab of Bible studies wastes no time launching into an almighty battle, with Moses and Ramses (Bale and Edgerton) fighting side by side "as close as brothers." There is, of course, a whopping elephant in the rococo room: blissfully ignorant Egyptian royal household adoptee Moses was born a Hebrew. When newly minted Pharaoh Ramses learns this bitter familial truth, he banishes his "brother" to a convenient desert and presumably goes back to his avid snacking.
Happily for ancient history, Moses is made of sterner stuff. While a power-mad yet consistently natty Ramses busies himself by shouting at underlings, Moses evolves into a visionary leader who will liberate 400,000 Hebrew slaves from 400 years of oppression by leading them out of a plague-ravaged Egypt.
Scott loves his swords and sandals and this lot is a thumping great enterprise, swollen with noble sentiment and decked out with operatic panoramas and high-camp costumes. Who knows what scholars will make of the bluster and the bling but I'm scoring points for audacious eye candy, with a special mention of the Red Sea. At that uncanny moment, appearances are everything.