ACTION; 2hr 12min
STARRING: Aaron Paul, Dominic Cooper, Imogen Poots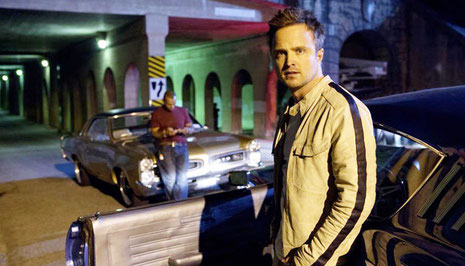 Fast cars are a primary force and nobody slams them harder than the home-town boys from Mount Kisco, New York. What Tobey Marshall (Breaking Bad 's Paul) and his cheeky crew haven't twigged about souping muscle cars isn't worth twigging. Business stinks, though, so when the chance to rebuild a Mustang for a fat fee presents itself, Tobey gives the job the green light, even though the man behind it (Cooper as ex-NASCAR driver Dino Brewster) is one sneaky customer.
The consequences are about as bad as they could be: framed by Dino, Tobey does two years' jail time. Fresh out, he's back behind the wheel of the car that caused it all, en route to a big-time, covert California race with a cool chick (Poots) in the passenger seat and a getting-square agenda.
Where else would he be? Fancy wheel work is what Need 's machismo-à-go-go lives and breathes. Based on the monster hit video-game series, the stunt driving, nimbly filmed from a plethora of up, down, sideways angles by director Scott Waugh, is a long, hot rush. Forget about character depth or pesky cerebral subtexts. This revhead tribute is breakneck nirvana.