THRILLER; 1hr 26min
STARRING: Jonathan LaPaglia, Luke Hemsworth, Viva Bianca, Hanna Mangan Lawrence, Alex Williams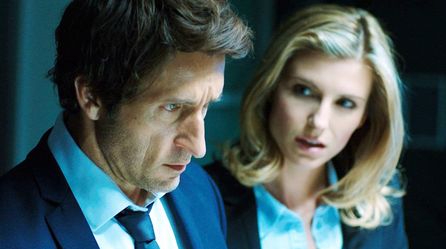 Seriouser and seriouser: LaPaglia and Bianca
The riddle-wrapped structure of The Reckoning is really two movies in one, its police-procedural spine cunningly laced with found footage of two teenagers on a sleuthing trail of their own.
LaPaglia is detective Robbie Green, a gloomy Gus with an alcohol issue and a murdered partner (Hemsworth) whose killer/s Robbie and his newly assigned offsider, Jane (Bianca), are keen to get ahold of. Their lead is video footage discovered by Robbie at the crime scene. Shot by runaway couple Rachel (Lawrence) and A.J. (Williams), it documents their hunt for the person or persons unknown who killed Rachel's sister in a hit-and-run. Terminally ill Rachel is flayed by fanatical religious zeal; A.J. is her champion enabler. And from the ink-stained vibe that saturates both stories, it's painfully apparent no-one will get off lightly.
Writer-director John V. Soto has a mean visual way with murk — the streamlined look is hellishly unrelenting — and some very nasty surprises up his sleeve. From seemingly foreseeable beginnings, his deceptive screenplay ricochets through a bloodied thicket of hoops that, one by one, call everyone's integrity to account. Prepare to be unprepared.