ROMANTIC DRAMA; 2hr 59min (French with subtitles)
STARRING: Léa Seydoux, Adèle Exarchopoulos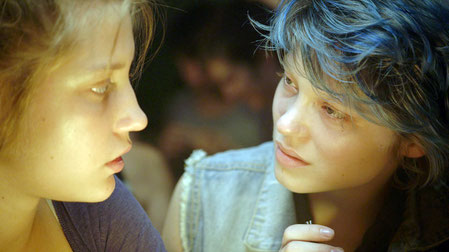 Searching: from left, Exarchopoulos and Seydoux
To show with personal imagery rather than to tell by spelling out is a frequently lost cinema art. Director Abdellatif Kechiche does it with a caressing hand in the Palme d'Or–winning Blue Is the Warmest Colour, which, while honest and erotic, knows when to shut up and let the silences do the talking.
Adèle (Exarchopoulos) is a high-school student who likes to read and shoot the girlie breeze. When she meets fine-arts student Emma (Seydoux), she is stumbling into her lesbian sexuality and on the cusp of discoveries that can only be made once. Emma, who is feline and wise, has electric-blue hair and the insouciance to match. Voilà! Adèle is hooked.
Visually, Kechiche leans in with a directness that overlooks no detail. A marathon, seemingly unchoreographed boudoir scene is blazingly explicit; its carnal ardour had me squirming midway between admiration for the gutsy actresses and not knowing where to look. But Blue isn't just a how-to of stonking sex. Adèle and Emma have a deep-seated yet progressively rocky understanding. Exploring that over several years also opens up Adèle's psyche, tunnelling deep inside her innermost life.