DRAMA; 1hr 43min
STARRING: Pierre Niney, Guillaume Gallienne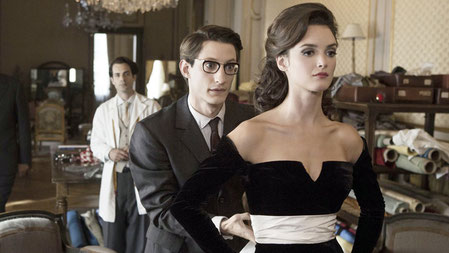 Made in Paris: Niney with Charlotte Lebon (as model-muse Victoire Doutreleau)
As fashion designer Yves Henri Donat Mathieu-Saint-Laurent, aka YSL, the L also conceivably being for Legend, Niney, who strongly resembles the late great, is as skittish and delicately chiselled as a deer. Yves's breathtaking designs (culled from the YSL archive) do the real talking for him, even at the tender age of 21, when, after the death of couturier Christian Dior (Patrice Thibaud) in 1957, he becomes artistic director of Dior's elite House.
Spanning 20 years and ruefully narrated by Yves's partner and champion in business and in love, Pierre Bergé (Gallienne), director Jalil Lespert's officially sanctioned re-creation isn't especially flattering in its dissection of artistic temperament. "You know, I'm not that nice," Yves confides to Pierre, and, no, he isn't, being petulant, snappish, moody and pig-headed. He's also a medically diagnosed manic-depressive with a weakness for white powder and other intoxicants, but above all a genius, devoured by his compulsion to create.
Bergé, who consulted on the film, unsurprisingly fares better as the rock over which Yves's fluid visions are draped. Their relationship is storm-tossed, which should be more involving than it somewhat prosaically plays. It seems that like warm champagne, hedonism, no matter how ornately gilded, is bound to grow stale and flat.